Lea todas las novedades en el blog
José Luis Torres closes the year 2017 on a high note
December 2017
With D'entrée de jeu, an unprecedented exhibition at the Musée national des beaux-arts du Québec, and his participation in the public art event Urban Green: artscarp in Hamilton, Ontario, artist José Luis Torres closes a prolific diversified year on a high note.
Torres was first invited by the curator of the pan-Canadian exhibition Urban Green Artscarp, Sally Frater, to present Securitas II as part of Canada's 150th anniversary celebrations at Sam Lawrence Park, in Hamilton, Ontario, from September 30 to December 2, 2017.
Renewing the notion of site-specific work in consonance with the spirit of place, this project puts forward the idea of an "installative" artwork radically confronting the landscape. Securitas II, a Latin word with multiple meanings, refers to protection, prevention, and to a sense of safety from any danger or risk. The work confronts us with our obsession for safety. It evokes a fully protected place that guarantees our safety, yet it can also be interpreted as an apparatus that restricts our access to its content.
Back in Québec, in November, the artist created D'entrée de jeu, an artistic project designed especially for the Musée national des beaux-arts du Québec (MNBAQ).
This project offers a progressive immersion in a captivating visual and tactile experience that stimulates the interest of the younger ones for art. It is a playful, interactive space in which children, with their families, sharpen their visual perception of creation through fun and exploration.
Colors, textures and touch play an essential role in this stimulating project. The whole sculptural elements allow children to discover Torres' universe and share his creative process and practice. The colorful exhibition invites visitors to observe, create, and take center stage. Its walls covered in optical illusions and three-dimensional effects offer families a unique environment designed to stimulate exploration and foster the reinvention of new play rules.
All the while, in an iconoclastic use of recycled materials, the exhibition catches the children's attention and shows them how to become more responsible towards our planet. Chairs, kayaks, wheelbarrows, lifesavers, plastic bins, watering cans, traffic cones and doors, among other objects, are a source of discoveries and wonders, but also offer a second-degree reading, questioning our relationship to objects, our consumer habits.
With D'entrée de jeu, the MNBAQ's central pavilion comes to life in a vibrant four-act experience:
LE PASSAGE (THE PASSAGE)
Between the walls of the Riopelle Passage, strange, soft, yet troubling shapes have appeared. Playfully, with a touch of irony, tubular shapes covered in fake green, orange, blue, and pink fur face passersby with notions of diversity. Offering a visual, tactile stimulation as well as a moment of questioning, the whole experience becomes an exchange between a poetic abstraction and the reflections of an ever changing society.
L'ARCHIPEL (THE ARCHIPELAGO)
Designed as a giant puzzle with infinite possibilities, modules on wheels are at the participants' disposal. Painted in orange, all components of these modules form an archipelago of shapes, or an inspiring creation work site. Manipulation and creation are the key words in this section of the Family Gallery.
LA FUGUE (THE ESCAPE)
Torres' works in the public space are truly distinctive, surprising sculptures created from multi-shaped, multicolored objects. D'entrée de jeu features a splendid jumble, La fugue (The Escape), a cascade of objects in balance, overflowing from the Family Gallery. It impresses visitors, makes them smile, carries them away… and sparks reflection.
LA CABANE RÉINVENTÉE (THE REINVENTED CABIN)
Spaces devoted to silent contemplation are as important as those for active play. In another area of the exhibition, several gateways lead children to a dream cabin with soft pillows and captivating books. There, they can rest, observe, discover multiple perspectives and spatial interpretations, invent treasure hunts or secret places.
The exhibition D'entrée de jeu is open until October, 2018.
For more information: https://www.mnbaq.org/en/exhibition/d-entree-de-jeu-1254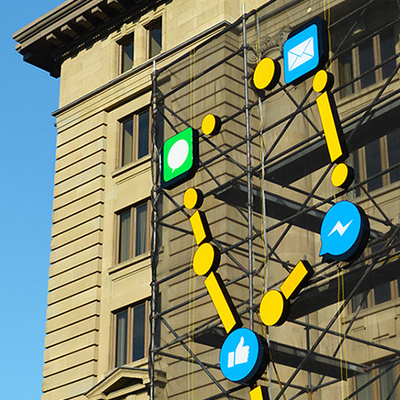 A very full summer for José Luis Torres
Septiembre 2017
With a solo exhibit and a series of 5 semi-permanent sculptural artistic installations in the public space, artist José Luis Torres is concluding a fruitful, diversified stint of presentations.
First, his Tour de force, a large-scale outdoor work, was created especially for the 50th anniversary of the Maison des arts Desjardins in Drummondville. A major intervention made from a multitude of doors and windows of all styles and bright colours, it invites visitors to reflect and raise questions on the notion of diversity. The work uses a pattern of unity, formed from multiplicity. Diversity is taken as a source of unity, in coherence with the collective process that gives birth to societies.
During the same period, Torres' solo exhibit Bûcher des vanités was presented at the Galerie d'art of the Maison des arts Desjardins in Drummondville. The body of works for this exhibition is made of assemblies emerging from seemingly simple manipulations that question the identity of the objects they use. They result in a loss of landmarks, playing on the confusion of the perception. This passage from the familiar to the strange is corollary to a reflection on the objects of our everyday surroundings.
In July, Torres unveiled La cible at the Harbourside Park in St-John's, Newfoundland. The public artwork, commissioned by Cadillac Canada to commemorate Canada's 150thanniversary, is an interpretation of the accuracy of the clock movement and time itself. The creation is also a tribute to Sandford Fleming, a Scottish-Canadian engineer, who suggested the standard time zone system on an international level in 1879.
Back in the Atlantic region and inspired by the sometimes opposing bounds between nature and culture, Torres has created In Nature on the façade of the building of the Rivière-des-Prairies public library in Montréal. Made mostly from wooden sticks painted in green, the work represents a structure that resembles the shape of a bed of grass. A hiding place and an observatory, a shelter and a nest, this transit space takes us back to universal needs of the human nature tied to the notions of safety, of tight wrap and habitat.
Soon afterwards, the artist created and set up Démesure at the Maison de la culture de Pointe-aux-Trembles in Montréal. Playfully, with a touch of irony, this installation gathers an impressive number of colourful objects of our familiar surroundings. The work faces the visitor with the notions of expansion and excess. His polymorphous configuration, with its vivid colours, is quickly perceived by the public as attractive and playful. Yet, one can detect a more troubling aspect to it, as if it posed a potential threat.
Later on, the work Constellation was presented by the artist within the temporary public art exhibition Métissage. This project designed for the promenade Fleuve-Montagne is part of the legacy of the city of Montréal's 375th anniversary.
"A visual configuration that speaks of our immediacy; of all the new communication platforms that allow us to keep in touch; of these so-called communicating pieces of content that we have become; and most certainly of exchanges, which smartphones allow us to operate as long as we navigate the signs of their systems. The figure is made of luminous boxes that represent communication icons such as emails, text messages or Messenger. The adopted configuration is a constellation of stars, another sign of a random trajectory that allows a certain gestalt, adopted to localise the earth, its orientation and its own trajectory around the sun." Stéphane Bertrand, exhibition curator.
Most of these works will remain accessible to the public in October and November 2017.